2003 East Coast Steam Car Tour
Alan Woolf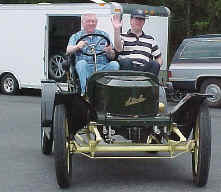 John,
The 2003 East Coast Steam Car is history. We finished up yesterday. 23 Stanley's and 4 White's were brought to Rome, GA by their owners and we toured for five days in North Georgia and North Alabama. We also made the AP wire and the link to the article in the Atlanta paper is: http://www.ajc.com/print/content/epaper/editions/today/metro_e35e67e9e4ac50610089.html
Once the smoke clears and I can get all of the pictures together I will be updating our webpage http://steamingdownsouth.com.
There is lots of steam car activity this month. The Brits start their tour tomorrow.
Regards,
Alan